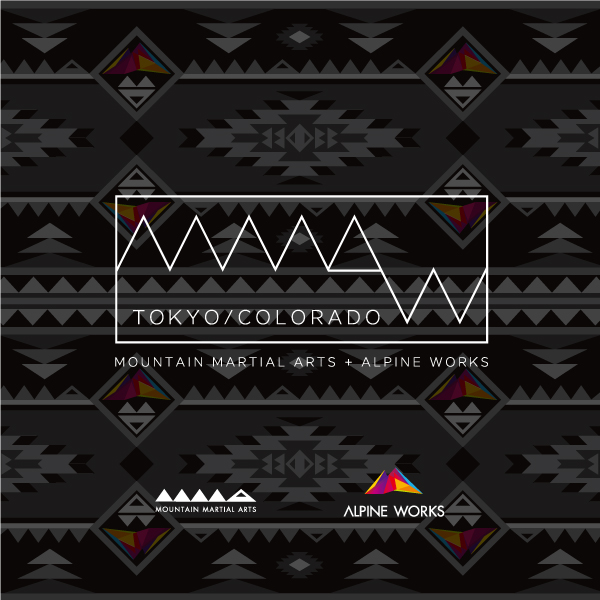 -English comes after Japanese-
Mountain Martial Artsはアメリカ人トレイルランナーのジョー・グラントのブランド「ALPINE WORKS」と共に、新しいライン「MMAW」をスタートいたします。
ジョー・グラントは優れたアスリートでありながら、自然に囲まれたコロラドに住み、トレイルランニングをはじめとした様々なアクティビティをライフスタイルに取り入れています。また、自身のPhilosophyをALPINE WORKSのサイトで発信するなど、アクティビティをカルチャーとして捉えるスタンスを持ち、多くのトレイルランナーの共感を得ています。
MMAWはジョーがイベントで来日した際にMMAディレクター渋井と出会ったことがきっかけとなりスタートしました。ジョーの提案する「街と自然をシームレスにつなぐライフスタイル」というテーマに合わせて、MMAのデザインと生産背景で形にします。トレイルランニングを通じてコロラドと東京のランナーが形作りに取り組む。お互いの住む場所が奇しくもMMAWのテーマ「街と自然」を象徴していることから、ロゴには「TOKYO/COLORADO」と入れています。今回のアイテムは街をイメージしたモノトーン、自然をイメージしたネイチャーカラーをベースとした展開となります。
MMAは多くの方々にアクティビティを楽しむお手伝いをしたいというスタンスを持っており、シーズンごとのテーマに沿って展示会での提案を行っておりますが、MMAWはシーズンにこだわらず、お互いの「作りたい」という気持ちにより展開いたします。

Mountain Martial Arts will be starting a new line "MMAW" with "ALPINE WORKS" which is the label of an American trail runner, Joe Grant.
Being an outstanding athlete, Joe Grant lives in Colorado which is surrounded by great nature. He is adapting variety of activity such as trail running in his life style. Taking the stance and seeing his activities as culture, Joe is transmitting his philosophy in his own sight ALPINE WORKS and many trail runners are influenced by his philosophy.
The concept of MMAW started when Joe came to Japan for an event and met with Yuichi Shibui, the director of MMA.
MMA designs and move on to production with the theme "the life style that connect the town and nature seamlessly", which Joe suggest. Through trail running, runners of Colorado and Tokyo cooperate to make in a shape. Strangely, the place each runners live are symbolized with the theme "the town and nature"which is the theme of MMAW, "TOKYO/COLORADO" is used in the logo.
The items are based on the monotone that gives the image of town, and based on natural colors that gives the image of nature.
MMA always would like to support many people to enjoy their activities. Even though we hold exhibition with the seasonal concept, we get down to working with the feeling of each other that we want to make.